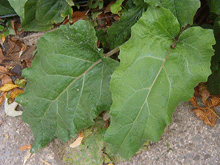 This has been a great summer for burdock! Also known as false rhubarb, you can find this plant growing through sidewalks, along bike paths and in any wild area around your neighbourhood. The second year plant is covered with burrs at this time of the year, and looks quite dead as it drops its many seeds for a new crop next spring. George des Mestral, a Swiss inventor, actually perfected Velcro after studying the burr's tiny hooks under his magnifying glass! The first year plant is a whorl of long, green leaves each growing on its own stem from one central root. Unfortunately, the huge leaves have few uses and they're especially bitter. If you rub your fingers together on either side of the leaf and then touch them to your tongue you'll taste what I mean. But if you want to get to the root of a problem, you'll most likely want to consider burdock root!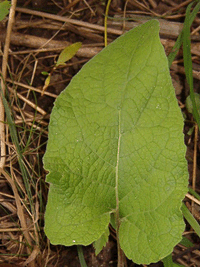 Burdock has long been known as an herb that improves liver function. Lately, Burdock has been studied for its immune enhancing qualities which help to protect the body from cancer, fungus infections and HIV, as well as its adaptogenic qualities, so important in our fast paced lives. Its large quantity of mucilage binds with chemical and heavy metals to quickly move them out of the large intestine, much like seaweed does. It also nourishes our friendly intestinal flora so should be considered if someone has been taking antibiotics. A decoction can be made using the dried root (1-2 cups per day) or the fresh root can be tinctured (40-80 drops 2x/day).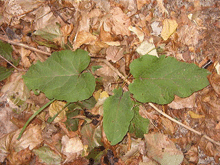 The root of the first year plant is harvested after the first frost in the fall or early next spring. It tastes fairly bland to slightly sweet and is sometimes sold in health food stores, or as gobo in Asian markets. If you want to get a good workout try harvesting your own roots this fall. Start digging (or forking!) at the outermost edge of the leaves so you don't break the root as it meanders underground. The fresh root is an incredibly nourishing tonic for the liver, lungs, kidney, uterus and joints and is abundant in vitamin C, iron, magnesium, potassium, zinc, carotenes, protein, phytosterols and flavonoids.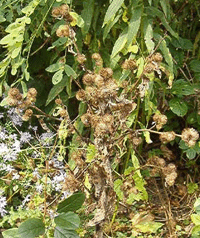 Most cooks add burdock root to soups and stews, much the same way they'd prepare parsnips or carrots. Another tasty way to serve burdock root is as pickles. Fill a mason jar with chopped fresh burdock root (and peeled garlic cloves if desired) and cover with a mixture of apple cider vinegar and tamari. Label and store in a dark, cool place for at least six weeks giving it a shake every once in a while. Then eat them liberally throughout the winter to rejuvenate your mind, body and soul! ENJOY!!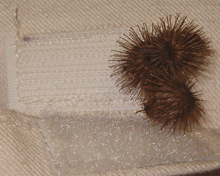 Over the years I have been blessed with many inspirational teachers. I thank them for sharing their wisdom through their lectures, workshops, websites and books. For more information about Burdock and many other herbs, enjoy these insightful and informative resources.