In this section, you'll find information about the many herbal creations that Monica can show you how to make. If you don't have the time or the interest to make your own herbal preparations, there's a complete listing of products at the bottom of the page which you can order through the Contact page.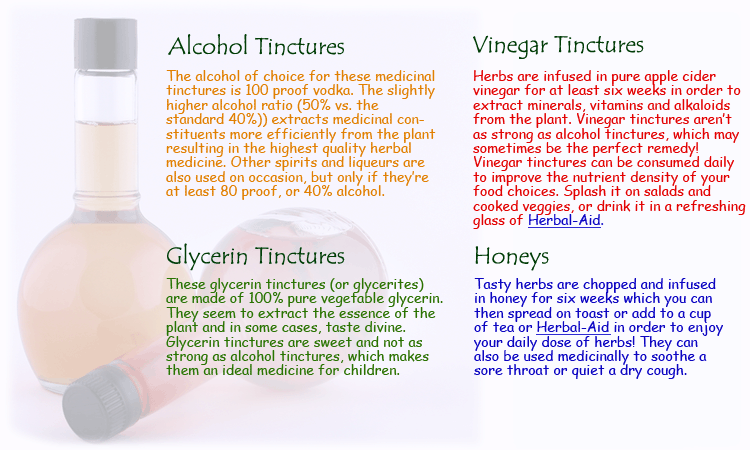 H

over your mouse pointer over

items written in blue

to see the label for that product!
VITALITY VINEGARS
Burdock
Burdock, Garlic & Dandelion
Chickweed
Dandelion
Garlic Mustard
Lemon Balm
Mint
Motherwort
Nettle
Sage
Thyme
Wild Oregano

TINCTURES ~ Simples
Boneset
Chickweed
Comfrey root
Echinacea root
Feverfew
Ginger
Ginkgo
Goldenrod
Hawthorn
Hops
Motherwort
Nettle
Poke root
Skullcap
Valerian root
Yarrow
Yellowdock root

OILS, SALVES & BALMS
Comfrey Oil
St. Johnswort Oil
Melissa Oil
Mullein flower Oil
Plantain Oil
Anti-Itch Salve (plantago and stellaria)
Boo-boo Balm (symphytum, plantago & hypericum)
Lip Balm (melissa, symphytum, hypericum)
TINCTURES ~ Compounds
Cold & Flu Support/ Ginger, Garlic & Horseradish
Immune Booster/ Echinacea- Poke
Strong Heart/ Hawthorn & Ginger
Heartís Delight/ A blend of herbs supporting a broken heart (melissa, leonurus, hypericum, lavendula & prunella)
Amber Magic/ A blend of nerve- supporting herbs (scutellaria, hypericum, melissa & humulus)

CORDIALS & ELIXIRS
Dandelion Cordial (taraxacum off.)
Hawthorn Cordial (crataegus sp.)
Relaxing Cordial (melissa, hypericum, lavendula, scutellaria)
Soaring Spirits (hypericum blossoms in Sambuca)

GLYCERITES
Bee Balm Bliss (monarda sp)
Echinacea root Glycerite
Ginger Bliss (zingiber off.)
Lemon Balm Bliss (mellisa off.)
Rose Bliss (rosa rugosa)

HERBAL HONEYS - used for coughs, sore throats or simple pleasure!
Anise & Thyme Honey
Citrus Peel (organic) Honey
Ginger Honey
Lemon Balm Honey
Sage Honey

More HERBAL DELIGHTS
Hawthorn Jelly
Hawthorn & Ginger Jelly
Basil Jelly
Burdock Pickles
Garlic Pickles
Garlic & Ginger Pickles

HERBAL CRAFTS
Dream Pillows
Lavender Pocket Pillows
Lavender Smudge sticks
Mullein Smudge sticks

The herbs used in these preparations are ethically harvested from my wild gardens in and around the city, as well as from the fields and meadows in the Eastern Townships, Ontario and the Laurentians. Often while still in the field, the herbs are chopped, bottled and covered with a menstruum of alcohol, vinegar, glycerin, or honey. They infuse in the menstruum for at least six weeks, but more often much longer.