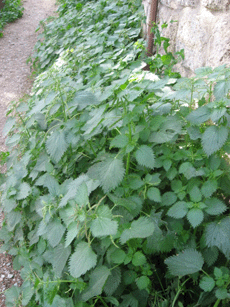 Do you have a patch of nettle in your garden or neighbourhood green space? Consider it a gift and green ally extraordinaire! They add lush green and wild beauty to your garden where they can grow up to four feet in sunny locations. Nettle leaves are loaded with calcium, Vitamin C, potassium, protein, silica and iron. They're also a good source of antioxidants including beta carotene, selenium and lycopene. Think of nettles as food for your adrenal glands, which work hard in these high stress times.
Nettle is known as a tonic herb restoring tone to the respiratory, endocrine, cardiovascular, digestive, musculoskeletal, urinary and immune systems... an absolutely amazing plant!! Over the years nettle leaf has been the primary focus of my studies but last summer I enjoyed hearing Stephen Buhner lecture on the virtues of nettle root for enhancing men's health at middle age. His research shows that nettle root tincture helps keep testosterone levels high, decreases urinary aggravations associated with prostate problems and inhibits prostate cancer cell growth. Men should consider using this preparation as a preventative prostate tonic. Please consult the tincture making process in the Herbal Health Root under Herbal Preparations if you'd like to make your own high quality product.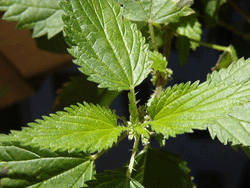 Nettle can be used for a variety of extrinsic remedies as well. I've never tried the folkloric "urtication" process of lashing arthritic joints with stinging nettle in order to increase mobility, but I have used nettle infusion as a hair rinse and was pleasantly surprised to read in James Duke's Phytochemical and Ethnobotanical Database (www.ars-grin.gov/duke) that sulfur (1200-6665 ppm found in nettle leaves) has been identified as an antigreying and antidandruff agent!
Clip your nettle frequently, before it flowers (the same way you would harvest mint or basil, just above new growth) and you'll have a great source of food and medicine all summer long. Hang your nettle in small bunches out of direct sunlight, or spread them onto large wicker baskets, until they're completely dry. Then store them in a paper bag to further reduce the chance of any moisture settling in. Over the coming months, add the dried nettles to your nourishing herbal infusions to prevent or overcome fatigue and exhaustion, headaches, allergies, or hay fever.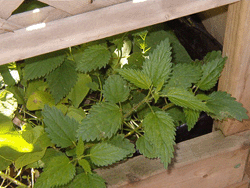 I usually boil a kettle of water while I clean up the kitchen after supper and carefully put a few (3-4) handfuls of the dried stinging nettle in a one-liter mason jar. (Every once in a while she stings, even after being in a paper bag for months. It's a great reminder to "Pay Attention" and "live in the moment" as promoted by Susun Weed at the Wise Woman Center.) Once the water boils I pour it over the leaves to the very top of the jar, cap it tightly and let it sit overnight. In the morning, I strain the liquid into my water bottle (dilute it if it's too strong) and sip it throughout the day. I sometimes add other herbs to the nettle, such as nerve-soothing milky oats (avena sativa), phytoestrogenic red clover blossoms (trifolium pratense) or mint which has a cooling effect I enjoy in hot weather. In the winter I add warming ginger root (zingiber officinale) to my infusion to offset the slightly cooling properties of the Urtica.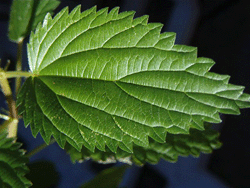 If you've mowed over your nettle patch recently, or it's still young and less than 6 inches in height, pick the ultra-nourishing leaves (with gloves on.. they do sting!) and substitute them for spinach in your favourite recipe, or benefit from making this version of "nettle-kopita". Cooking the nettle eliminates the sting making it a delicious, re-energizing, free food everyone can take advantage of! I try to get to my local nettle patch every June in order to make this dish at least once through the growing season. It's a great potluck item, brimming with green delight, well-worth sharing with family and friends. ENJOY!


NETTLE QUICHE
Adapted from Mollie Katzen's Spanakopita recipe (pg. 151)
The Moosewood Cookbook; Ten Speed Press; Berkeley, Ca. 1977

Wash and stem (less than 4 inch nettle may not need stemming, older definitely does!)) 2 lbs/ 1 kg of nettle in cold water and shake lightly. Put the wet nettle in a large pot and cook for five minutes. Salt lightly.
Saute 1 large chopped onion in olive oil until soft. Meanwhile put 2 cups of feta cheese and 5 eggs in your food processor and mix. Add 2 TBSP. whole wheat flour, 2 cups cottage cheese, 1 tsp. basil and 1 tsp. oregano and blend again. Add the cooked nettle and onion to the mixture, salt and pepper and process.

Grease a quiche plate or a 9X13 pan and pour the mixture in. Bake @ 375, uncovered, about 40 minutes or until a knife comes out clean and it seems solid. Allow to cool slightly, slice and serve!