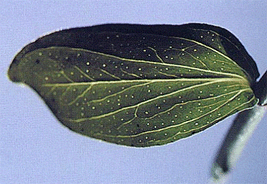 They're right on time again this year.. St. Johnswort (SJW) usually blooms right around St. Jean Baptiste day on June 24th and this past weekend the bright yellow flowers lined the highways and fields around Montreal. The flowers are a delight, like a burst of sunshine, but the leaves are probably the best way to identify this plant. Hold a leaf up towards the light and notice the "perforations" throughout the leaf. These pin-prick sized holes are actually glands, but recognizing the leaf is a great way to be sure you're not weeding SJW out of your garden before it blooms into a nourishing ally.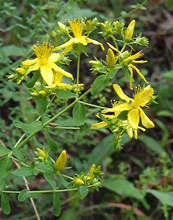 Hypericum is one of my favourite plants. As you pick the yellow buds and flowers your fingers get stained dark red. And when you add your harvest to an alcohol or oil base, it's quite magical how these very yellow flowers turn the menstruum crimson red. Your medicine will probably be just as strong if you include some of the leaves that grow around the blossoms but your tincture won't be quite as colourful. (For more information on Herbal Preparations see the Herbal Health Root).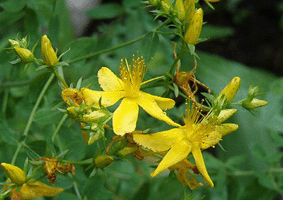 This plant has received a lot of media attention in the past decade or so. More than thirty double-blind placebo controlled studies world wide have shown a positive effect on a variety of symptoms including anxiety, mood swings, sleep problems, irritability and depression. Known for nourishing our nervous systems, SJW has been outstanding as a dependable remedy for Seasonal Affective Disorder and mild to moderate depression, without the side-effects of antidepressant drugs. It seems to help those who have no energy to get out of bed in the morning and then feel like they're dragging themselves around all day. They generally prefer to be alone and their messy surroundings sum up their "who cares" attitude. SJW seems to dispel the fogginess in the brain and balances mood swings by getting a little sunlight into their grey world. I like the lift I get from a few drops of my favourite cordial, Soaring Spirit. I simply infuse the St. Johnswort flowers and buds in sambuca (40% alcohol +) for at least six weeks, strain and store it in a dark bottle. The biggest problem, my friends tell me, is stopping after a few drops! Compliance is good when you treat yourself!!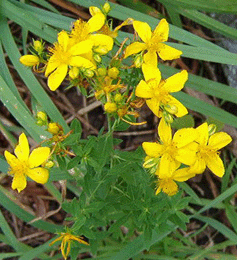 If you macerate your SJW in olive oil and let it sit in a dark place for six weeks, you can make a wonderful magenta red massage oil for stiff and tired muscles. The oil is also an effective remedy for shingles, chicken pox or herpes due to its antiviral active ingredients. The SJW oil is also used on any burns, whether they be from the kitchen, the sun or radiation treatments. Interestingly, one of the often-mentioned side effects of SJW is that it makes skin more vulnerable to sunburn. This seems to be the case when the hypericum is extracted from the plant and processed into a capsule or pill, but it rarely occurs when the whole plant is used in herbal preparations.
Another great way to use the SJW oil is turning it into a salve, or lip balm. Gently heat your SJW oil in a thick–bottomed pot over a low burner or flame. Add grated beeswax, about 1 tablespoon per ounce of oil. Place a spoon of oil in the freezer for a minute or two to check the consistency. Adjust as necessary, adding more infused oil or more beeswax! I often add chickweed, plantain or comfrey oil along with the SJW oil to add to the healing effect on chapped lips, bug bites, burns or abrasions.
Check for the "perforations" on a leaf the next time you see SJW in a sunny field or along a sunny road. Enjoy the beauty of SJW this summer and prepare some in your favourite liqueur for those shorter days in February when your spirits need an extra lift!