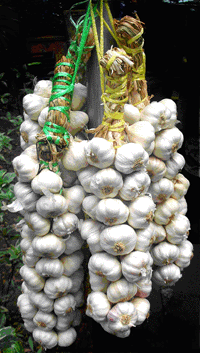 Garlic has been used since ancient times as both food and medicine. Have you ever heard anything negative about garlic? This wonder herb has a rich history around the world. Its complicated chemistry suggests that there could be a synergistic effect occurring between all its constituents which results in so many varied benefits for us all to embrace and enjoy!
Allium sativum has been studied extensively, especially for its positive effect on the cardiovascular system. It normalizes blood pressure, decreases cholesterol and triglyceride levels in the blood, and helps to keep blood clot-free. According to Dr. James Duke, garlic actually contains nine anti-coagulating compounds making it an excellent choice as preventative medicine, decreasing the chance of heart attacks and strokes. Caution: Large doses may increase risk of bleeding if you're already taking anti-platelet agents or anticoagulants. Consult your health practitioner.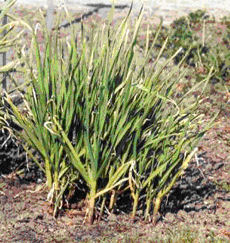 Garlic is also widely used as an antiseptic, antifungal, antimicrobial herb that kills disease-causing bacteria and increases our resistance to infections and viruses. It helps to improve digestion, another key to enhanced health! Think of consuming garlic frequently when traveling abroad in order to decrease the chance of parasites moving into your intestinal tract. In addition, your immune system is greatly enhanced by this powerful herb and many swear that it keeps flus and colds away during the winter months, even when everyone around you is sick.
A common dose for good health is a clove or two per day. If your recipe calls for one clove of garlic, double it! Roast garlic bulbs in the oven and squeeze the garlic paste onto bread or crackers. To make a tasty mineral-rich tonic try soaking peeled garlic cloves in apple cider vinegar (or wine vinegar) for six weeks. Add basil or oregano for extra flavour and nourishment! Strain and use the vinegar liberally on salads and vegetables. Slice the pickled garlic into soups, stews and salads or onto savoury sandwiches.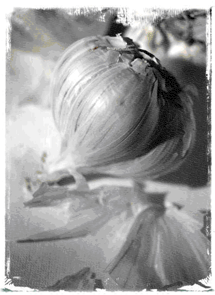 One of my favourite garlic recipes is adapted from The Moosewood Restaurant Cooks at Home (Fireside, 1994), a wonderful cookbook full of quick and tasty recipes. Throughout the winter we try to make this at least once a week to derive all the wonderful benefits that garlic has to offer. It's also delicious, and one of the few recipes that the entire family will eat! I hope it helps to keep you and your loved ones healthy throughout the winter, and beyond. ENJOY!
TOMATO GARLIC SOUP
8 cups vegetable stock
3 TBSP. minced garlic (one large head)
2 TBSP. olive oil
½ tsp. paprika
Sprigs of parsley, sage and thyme
Handful of kelp or seaweed of choice (optional but very nourishing!)
In a covered pot, bring stock to a boil. In another soup pot, gently sauté the garlic in the olive oil over LOW heat until golden. Add the boiling stock, stir in paprika, seaweed and herbs. Bring the broth to a boil and simmer for 15 to 30 minutes.
Then add and simmer for another 15 minutes or until kale is soft:
1 bunch fresh kale, preferably organic, washed and chopped
28 oz. undrained canned tomatoes, pureed
Sprinkle with Parmesan cheese if desired. To turn this soup into a heartier meal, serve over polenta, tortellini, risotto or pasta.